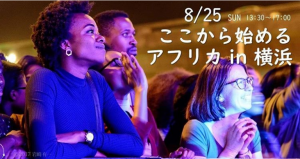 As we welcome "The Seventh Tokyo International Conference on African Development" 28-30th, August this year, we believe that the voice of African people is the first and foremost important to be heard and echoed in this town.
Part one, the title of "Living in Japan", welcomes Japanese residents with African roots as speakers to share their experiences and discuss to make the society better together. Part two seeks for how Africa and Japan can change the discourse of cooperation. Speakers will present Japan's ODA survey conducted by African civil society organizations and projects by global fund as a case to show multilateral cooperations.
Join our symposium from the link below.
Date and time:25th of August,
Venue: Yokohama Creative City Center, 3rd floor.
Access:
Program 
13:30-  Acknowledgement from the organizer
                Word of comment from TICAD co-organizers
14:00-  Part One : The voice of Africans in Japan
                      ・Student/ African Kids Club
                       (Ms. Udemba Angela)
                      ・Japan Society for Afrasian Studies
                       (Mr. Kinyua Laban Kithinji)
                      ・Igbo Association of Japan
                       (Mr. Obinna N. Okeke)
15:00-   Break
15:10    Part Two : Africa Japan Cooperation past and the future
           ・ODA* from African perspective
                       (Ms. Olive Mumba/ Mr. Paul Oumarou Koalaga)
           ・"Cooperation" in many different ways
                       (Ms. Rosemary Mburu)
                      ・For new cooperation between Africa and Japan
                       (Ms. Maungo Mooki)
16:00-    Group work
16:30-    Wrap up and closing
*ODA=Official Development Assistance